https://www.ctpost.com/business/article/One-door-closes-two-open-for-gourmet-doughnut-12424441.php
What the future holds for Donut Crazy after Black Rock exit
Residents and visitors of Black Rock may have been disappointed to see that Donut Crazy has shut down its satellite location in the space it shared with Nom-Eez, the Vietnamese eatery in the heart of the Bridgeport neighborhood.
(Don't worry, Nom-Eez is still going strong with its Vietnamese street eats in that location.)
Closing the Black Rock outpost was a decision to focus on the brand, and to concentrate on locations with the space and ability to sell all the products Donut Crazy has to offer, according to owner Jason Wojnarowksi.
Related: New Haven gets Donut Crazy
The gourmet doughnut shop – which currently has locations in Stratford, Westport, Shelton and New Haven – is known for its daily handcrafted doughnut offerings (think chocolate glazed, red velvet, and powdered jelly doughnuts), as well as its rotating "crazies" menu.
The "crazies" change monthly and include doughnut flavors like Peanut Butter Explosion (a chocolate cake donut covered in peanut butter buttercream, Reese's Puffs drizzled with dulce de leche and vanilla topped with a dollop of peanut butter) and S'Mores (a raised yeast shell with a chocolate Bavarian filling, dipped in chocolate frosting, rimmed with graham cookie crumbs, and topped with a lightly toasted large marshmallow and mini Hershey bar).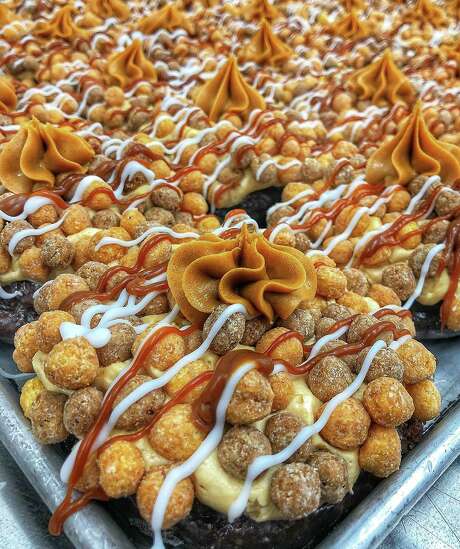 Photo: Contributed/Donut Crazy
Wojnarowski is partial to the coffee cake doughnut, which is topped with cream cheese frosting and traditional coffee cake streusel crumble.
"It's a nice, simple doughnut to enjoy," he said.
Donut Crazy also sells eats like omelets, tots, avocado toast, cheeseburgers, egg and cheese sandwiches and more at its full-service locations, as well as a variety of coffee and espresso drinks.
The shared spot at Nom-Eez proved challenging as far as showcasing the brand's varied offerings, Wojnarowski said, but opening a full-service location in the Bridgeport area in the future is something he wouldn't rule out – if the right location becomes available.
The demand for Donut Crazy has led to laying roots in Branford (slated to open in the next few weeks) and West Hartford (scheduled to open in the spring of 2018).
Related: Donut Crazy brings popular creations to Westport
"We wanted to work our way up toward the shoreline," Wojnarowski said, as the Fairfield County and New Haven locations were routinely seeing customers from that area.
The Branford spot will be takeout only, Wojnarowski said. The downtown West Hartford site will be a full-service location similar to the stores in Shelton and New Haven.
As Donut Crazy expands into new regions in Connecticut, the staff continues to brainstorm new creations and flavors.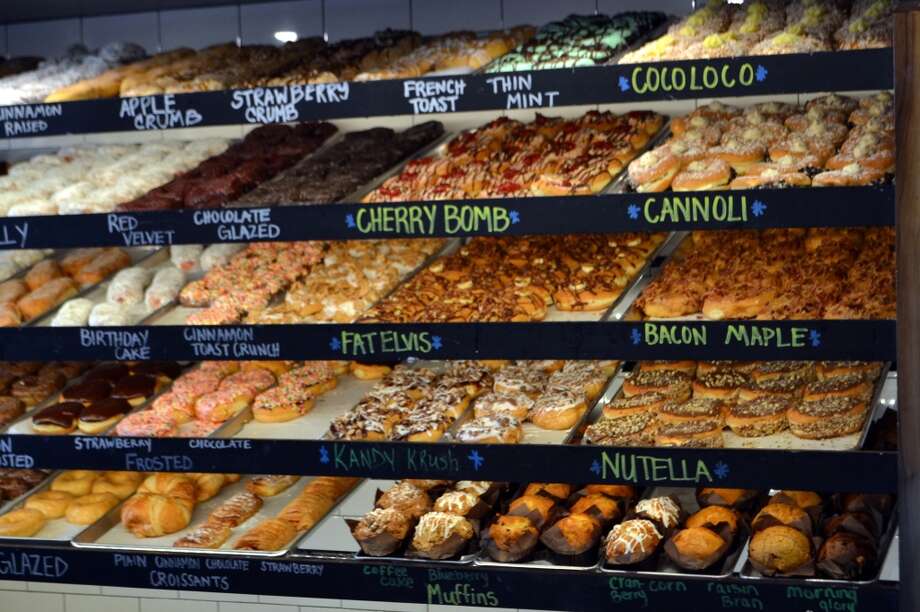 Photo: Jeff "jfood" Schlesinger
Ideas for "crazies" are often collaborations between Wojnarowski, the staff and customers who share their thoughts in store and especially on social media.
Have ideas for the next line of "crazies?" Connect with Donut Crazy on Facebook, Instagram and Twitter.
Recently, Donut Crazy introduced the "cruffin," a cross between a croissant and a muffin, to celebrate the New Haven location's first anniversary. The cruffin is offered on weekends and they continue to perfect the recipe, planning to "mix in and rotate" new flavors like chocolate mousse and cannoli, Wojnarowski said.
Related: Donut Crazy launches the 'cruffin' croissant-muffin hybrid
They're planning a special cruffin to celebrate the opening of the Branford location, he added.
"We're excited to continue what we do," Wojnarowski said. "We're going to keep working and keep being creative."