https://www.thehour.com/news/article/Report-Connecticut-s-forests-are-in-jeopardy-12222933.php
Report: Connecticut's forests are in jeopardy
Updated 2:57 pm, Monday, September 25, 2017
Photo: Carol Kaliff / Hearst Connecticut Media
A Harvard research report shows that after 150 years of reforestation efforts around New England, the region is headed toward "irreversible" forest loss due to development, and Fairfield County in particular is at a "high" risk.
According to the report, New England is seeing its forestry vanish at a rate of 65 acres a day, with trees in Connecticut disappearing at 3,700 acres a year to development — the fourth fastest rate out of the six New England states.
If left unchecked, the report said that another 1.2-million acres of forestland and farms will be lost to development over the next 50 years.
The report predicts that region could see changes that could "alter the inherent character of the New England landscape, diminish its beauty, and undermine its capacity to yield clean water, mitigate flooding, produce food and wood products, support wildlife, and provide other services needed and valued by New Englanders."
As one of the most densely populated regions in the U.S., New England supports expansive forests across over 80 percent of its land base and farmland on an additional 7 percent.
However, Connecticut, which was once one of the most densely forested regions, has become the state with the second least forest cover in New England, behind only Rhode Island. And, according to the report, the deforestation in Connecticut and around New England could grow even worse.
"Today, with a second wave of forest destruction under way in all six New England states, the region's forests are at another turning point. Suburban sprawl is chipping away at both forest and farmland, reversing the region's environmental success story and jeopardizing the many benefits these lands provide to people and nature," reads the report.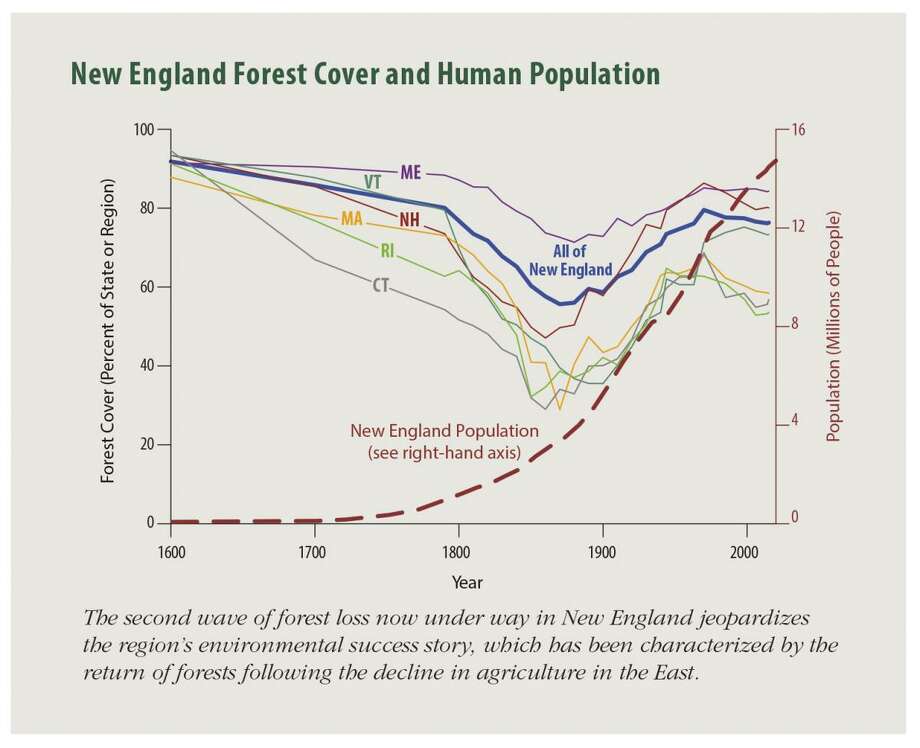 Photo: Wildlands And Woodlands
The study identifies commercial and residential development, parcelization and fragmentation of land, unsustainable forestry management and the deterioration of notable tree species like chestnut, ash, beech, elm, and hemlock as the some of the primary culprits.
The report also identifies decreases in state and federal funding as another leading contributors to the decline. According to the report, annual state and federal funding declined from $199 million to $62 million between 2008 and 2014, a decrease of nearly 50 percent. During this same period, the report found that the pace of conservation slowed from more than 150,000 acres per year in the early 2000s to about 50,000 acres per year since 2010.
According to the report, Connecticut currently ranks fifth among the New England states in per capital state spending on conserving open space, with an average of $2.81 per person being spent on conservation efforts. Only New Hampshire spends less on conservation at $1.46 per person.
ptomlinson@hearstmediact.com; 203-842-2570; Twitter: @Tomlinson_PE